Political & Security Risk Advisory
We offer daily, weekly and bespoke reports that enable decision-makers to operate with confidence in some of the most hostile environments in the MENA region. Live incident alerts are disseminated to clients to inform their operations teams of critical events as they unfold and allow them to make quick and accurate decisions in times of confusion and uncertainty.
Our reports are based on a combination of sources including around the clock research and data gathering, historical statistical analysis, open source information, social media platforms and most importantly, our on-the-ground network of contacts.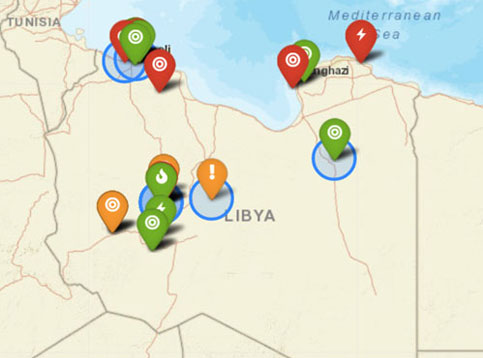 CONTACT US TO ACCESS OUR LIBYA HEAT MAP
We are well equipped to offer the following services throughout the MENA:
In-depth analysis of security threats at the country, regional, city and even neighbourhood-level
Bespoke political assessments looking at the short, medium and long term risks to business
Project-specific risk assessments including mitigation plans
Live incidents alerts
View our Reports
Case Study
Whispering Bell analysts support a number of major international oil companies throughout the region by monitoring emerging threats, providing detailed security assessments and forecasting political developments with the potential to impact personnel, assets and business operations.